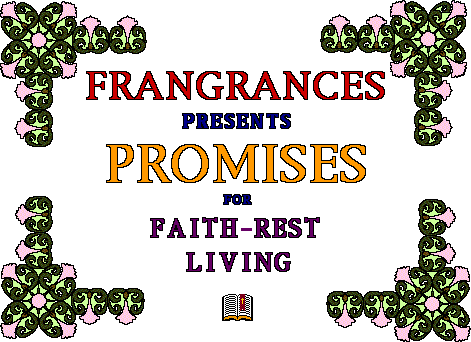 The FRAGRANCE
of the KNOWLEDGE of Him
2 Corinthians 2:14
FAITH REST
1. Definition: Faith rest is the attitude and practice of being totally relaxed and confident in the character and plan of God based on knowledge and trust in His word.

2. The premise for faith rest is the absolute character and plan of God. Because of WHO He is, we can depend on Him to meet all our needs.

A. Romans 8:32 - Since He has provided the most for us by sending Jesus to die on the cross for us, once we accept Him as our savior and enter into the family of God, He will continue to provide just what we need to be successful as a child of God here on earth.

"How will He not with Him, freely give us all things?"

B. Romans 8:28 - God works all things together for benefit. There is nothing that happens in our life that God cannot mold for our benefit AS LONG AS we are walking with Him in fellowship ie, "Those who love Him."

C. 2 Pet 1:3 - God has provided everything we need for life and worship through His word.

D. 1 Peter 5:7 - And then when all is said and done, it boils down to the simple fact that God The Almighty actually "cares for us."


3. The imperative of Faith rest.

Hebrews 11.6,
"without faith it is impossible to please Him."


Indeed, the only way that God can bless us here on this earth is for us to "live by faith." When we "give up" and fret and worry about "what we shall eat or drink or what we shall put on," etc., God is UNABLE to give us the "peace of God which surpasses all human logic." That is only experienced by those who BY FAITH trust God's character and plan for every situation in there life.

4. Faith rest is an extension of salvation faith into the Christian way of life.

A. Salvation: We are saved by trusting in the character and plan of God as represented in the gospel message, "Believe on the Lord Jesus Christ, and you shall be saved." Acts 16:31; Ephesians 2.8-9

B. The Christian way of life: And we live as a child of God by faith.

Colossians 2.6,
"As you received Christ, so walk in Him"


We "received" Christ by faith and we continue to "live" after salvation by faith.
2 Cor. 5.7,
"we walk by faith not by sight."
We walk by trusting in the character and plan of God as revealed in His word. We do not live by "reacting" to the varied circumstances of life but by trusting in the "absolute" character and plan of God.

6. The peace of faith rest: Only as we trust in God for all the little details of our life will we be able to experience the PEACE that Jesus has promised to give us.

John 14:27
Peace I leave with you, My peace I give to you;
Not as the world gives, I give to you.
don't let your heart be troubled or intimidated.

Phil. 4.6-7
Be worrying about nothing,
but in everything by prayer and supplication with thanksgiving
let your requests be made known to God.
And the peace of God, which surpasses all comprehension,
shall guard your hearts and your minds in Christ Jesus.


Is. 26.3-4
The stabilized of mind
You will keep in perfect peace,
BECAUSE he trusts in Thee.
Trust in Yahweh forever,
For in Yah, Yahweh, is an everlasting Rock.
EPHESIANS 6:16-17
"In everything, taking up the SHIELD OF FAITH
by which you will be able to extinguish
all the fiery missiles of the evil one. . .
And take . . . the SWORD OF THE SPIRIT
which is THE WORD OF GOD."